envelopeannemaree@houseofoils.com.au phone0438 417 256
Blue Gum Eucalyptus Essential Oila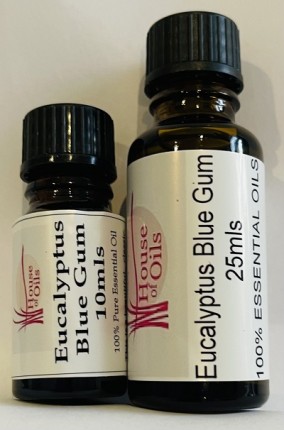 BLUE GUM EUCALYPTUS 10ml $9.80 - 25ml $14.10
Bot/Nme: Eucalyptus Globulus
Com/Nme: Blue Gum: Note: Clean Aromatic: Methor: Steam Distilled:
Active: Antioxident Activity-Enhansed Skin Penitration
This a beautiful, classic, sweet Eucalyptus oil with refreshing top notes. The number relates to the oils 1,8-Cineole content, a key active in the Eucalyptus family.
Cineole has some antioxidant activity and it has also been found to be a skin penetration enhancer which may be interesting in anti-ageing formulations but is something to be more mindful of for formulations targeting people with very sensitive skin.
Cineole has some antimicrobial properties and is useful as part of a natural antimicrobial preparation although it is unlikely to be able to act as a cosmetic preservative.
This oil is steam distilled. Ideal for Diffusers and Reeds
POST: All enquiries regarding Postage, should be directed to your local Post Office.
We do not have this information
Postage: We send with 3 working days of receipt of your order.
Delivery: Anticipated despatch 3 days after receipt
Postage Australia Wide $10.00
There are no reviews for this product.