envelopeannemaree@houseofoils.com.au phone0438 417 256
Chamomile Essential Oil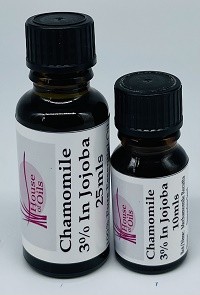 Chamomile 3% jojoba Essential Oil: 10ml $11.60 25ml $19.10
Aust Post $10.00
>Description
Ingredients

: Ormenis Multicaulis Flower Oil
Botanical name: Ormenis multicaulis
Common name: Chamomile Wild Maroc

Plant part: Flower head

Extraction method: Steam distilled

Common uses: Chamomile Wild Maroc is used almost exclusively in the fragrance trade as a top note in colognes.
Apply to the bottom of your feet at bedtime or a restful night sleep, promotes feelings of inner peace
Note: Middle

Strength of aroma: Strong

Aromatic scent: Sweet, tenacious balsamic undertone.

Caution: Non-toxic. May cause skin irritation. Avoid during pregnancy.
There are no reviews for this product.