envelopeannemaree@houseofoils.com.au phone0438 417 256
Clove Essential Oil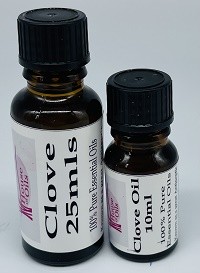 Clove Oil Pure Essential Oil 10ml $9.80 25ml $14.40
Postage Australia Wide $10.00
Botanical Name: Eugenia Caryophyllata
Ingredients: Eugenia Caryophyllus Leaf Oil
Common name: Clove leaf
Plant part: Leaves
Extraction method: Steam distilled.
Description
Common uses: Clove essential oil has been known to be a great antiseptic.
and has traditionally been used to relieve symptoms of cold and flu- Clove takes away mold.
Method of Extraction: Supercritical carbon dioxide. This method uses carbon dioxide.
that is in a fluid state but has a temperature and pressure that give it unique properties.
somewhere between a gas and a liquid. This enables it to act as a solvent that is ideal for
chemical extraction due to its low toxicity. It is also able to preserve some of the more.
volatile components of essential oils that may be lost when other extraction methods are used.
Cautions:
Keep out of reach of children. Avoid contact with eyes,
inner ears, and test sensitive areas.
If you are pregnant, nursing, or under a doctor's care,
consult your physician. Possible skin sensitivity.
Difference between Clove Bud, Leaf and Stem Oil:
Cloves anti-septic and pain-relieving properties are attributed to its eugenol,
eugenyl acetate, b caryophyllene and a humulene content.
These components are found in all cuts of Clove oil but are most balanced in the Bud.
There are no reviews for this product.