envelopeannemaree@houseofoils.com.au phone0438 417 256
Cypress French Essential Oil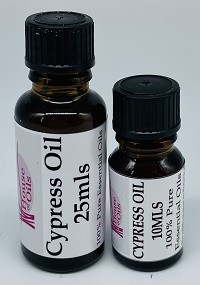 Cypress French Essential Oil 10ml $12.10- 25ml $20.30
Botanical name: Cupressus sempervirens
Common name: Cypress Mediterranian

Plant part: Needles and twigs
Extraction method: Steam distilled
>Description
Cypress has been known to have astringent and antiseptic properties and has
traditionally been used for excessive perspiration also helps
relieve period pain and sore muscles when blended with a carrier oil- {Castor Oil}
Dilute with a carrier oil to minimize any skin sensitivity.
Aromatic scent:
Spicy, herbaceous, slightly woody evergreen aroma.
Use Diffuse for an uplifting aroma or use in Reeds
Cautions
Keep out of reach of children. Avoid contact with eyes,
inner ears, and test sensitive areas.
If you are pregnant avoid, nursing, or under a doctor's care,
consult your physician.
Possible skin sensitivity. non-irritant and non-sensitizing.
I have just stocked up on my essential oils half price and the service and delivery is top notch thanks