envelopeannemaree@houseofoils.com.au phone0438 417 256
Lemon Ironbark Quality Eucalyptus Essential Oil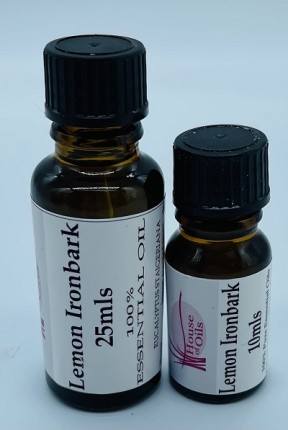 LEMON IRONBARK QUALITY EUCALYPTUS.
100% Pure Essential Oil- 15ml - $16.00
Botanical Name: Eucalyptus Staigeriana We sell Rock Ya Pain
Common name: Eucalyptus Staigeriana, Lemon-scented Ironbark Best Quality from our local Farmers.
Method of Extraction Steamed distilled
Common Use: The Citral components are said to be anti-infectious, anti-viral, antiseptic,expectorant, anti-inflammatory, and a digestive stimulant
Blends well with: Pine-Thyme-Lavender-Rosemary-Marjoram-cedarwood- and lemon.
Description - Lemon Ironbark is known for its antiseptic prowess, Relief from troubled breathing in winter, air freshening, uplifting, relaxing, removes bad room smells and odors, calms noisy children. helps with insect bites & Jellyfish
Aromatic Scent: Sweet and fresh, fruity-lemony odor Eucalyptus Essential Oils has long been used in homes in Australia.
Uses:Add to sick room-add a few drops- Dilute in water and add a few drops to your washing,
add to your dryer-Few Drops on your Aromatherapy Necklace or Beads - cardiffuser
Mop Bucket antiseptic or Dilute into a spray bottle and spray around doors and screens to keep the beasties away.
Diffuser use: Add 3-4 drops to your diffuser or Reeds.
Cautions:
Keep out of reach of children. Avoid contact with eyes,
inner ears, and test sensitive areas.
If you are pregnant, nursing, or under a doctor's care,
consult your physician. Possible skin sensitivity.
Postage Australia Wide $10.00
Webpage not working? please ring me Anne-Maree 0438-417-256 thank you so much
There are no reviews for this product.