envelopeannemaree@houseofoils.com.au phone0438 417 256
Lime Essential Oil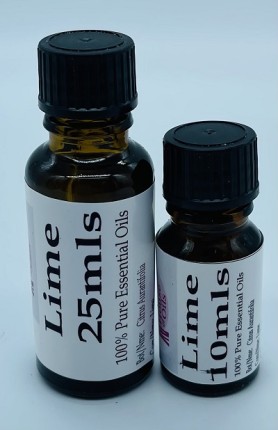 Lime 100% Pure Essential Oil
10ml $9.60 25ml $16.00
Spend $150 receive FREE DEIVERY Postage Australia Wide $10.00
Ingredients:

Citrus Aurantifolia Oil * * Denotes Certified Organic
Application to the skin may increase sensitivity to sunlight
Botanical Name

: Citrus aurantifolia
Common Name: Lime
Plant Part: Peel
Extraction Method: Cold Pressed
Common Uses: Lime essential oil has a crisp, refreshing citrus scent that has been used for its uplifting and revitalising properties. It can also act as an astringent on the skin where it is reputed to help clear oily skin.
Note: Top
Strength of Aroma: Medium
Aromatic Scent: Fresh, sharp and fruity citrus aroma.
Caution: Lime essential oil is phototoxic. Users should avoid direct sunlight after application.
Avoid during pregnancy.
There are no reviews for this product.